We provide catering insurances that will protect and cover you in all aspects of your business. At Goldcrest we make sure your company is fully protected in all the right areas.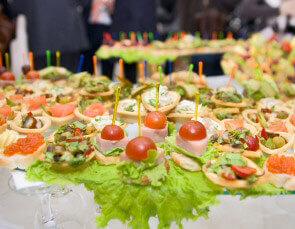 Catering Insurance Liability is provided in all our catering products. If it is stand-alone coverage you require or perhaps a package deal we have the cover for you. No company is too big or small. We provide insurance for the one man bands to larger catering companies. Our job is to make sure you have all the cover you need for the size of your business.
We offer up to:
£10 million in employers liability insurance
£5 million in public liability insurance cover with the option of increasing this to £10 million if required
Up to £5 million product liability insurance cover with the option of again increasing this to £10 million if required
Call Now To Speak To One
Of Our Friendly Staff
All our Quotes are tailor made to get you the best cover. Call now for a customised one minute quote.
Get a Quote
Speak to one of our team today and we'll find you the best quote on the market
Our facilities cover quoting you for your catering vans insurance as a road side risk. Covering third party fire, theft or a more comprehensive cover, whichever you require.
We also provide insurance for catering trailers, whether it is a mobile trainer or a fixed trailer, this includes:
Fixtures and Fittings
Stock
Liability cover
Business Interruption
Cash on Hand
Legal protection
Breakdowns
We understand how time consuming and frustrating it can be searching for catering insurance when you are so busy. Our team of experienced members have a wealth of knowledge and will provide you with a competitive insurance quote for all your insurance needs to get you covered in all the right areas. We are an independent company and so you know that you are getting the best quotes from across the marketplace.
If you have any questions about our catering specific insurance products, then please do give us a call today on 020 8440 7400.