Engineering insurance can be something that many businesses do not think they need as part of their insurance programme. However, despite its name, engineering insurance is something that many businesses should have.
Engineering insurance provides protection against mechanical or electrical breakdown of machinery and plant equipment such as lifts, boiler systems and electrical equipment in the workplace. For example, many businesses and property owners do not know that it is a requirement for them to have engineering cover for lifts in the building. Or that if you work with pressurized hoses or high pressure equipment you should cover for these.
Call Now To Speak To One
Of Our Friendly Staff
All our Quotes are tailor made to get you the best cover. Call now for a customised one minute quote.
Get a Quote
Speak to one of our team today and we'll find you the best quote on the market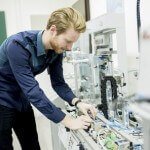 Cover extends to self-damage, damage to surrounding property, third party risks and engineering interruption insurance. The principal risks covered are against explosion and collapse, breakdown, sudden and unforeseen physical damage and fragmentation risk.
Whichever engineering discipline you specialise in, the potential for making a mistake is always there. And whilst some mistakes are easily spotted and rectified before any harm is done, others can remain undetected.
If the mistake was yours, it will be you the client looks to for full compensation. And if you don't have the protection of engineer insurance, you could be facing bankruptcy.
Some of the most common things covered by an engineering policy:
Inspection – Owning certain plant and machinery puts you under legal obligations to make sure it's safe to use and fit for purpose.
Machinery and Plant – To cover plant, machinery and tools against accidental damage, malicious damage or theft.
Contract Works – provides cover for your business whilst working on a contract sites either on a temporary or permanent basis. The policy can provide cover for any scaffolding, tools and/or materials which are damaged or stolen whilst contracting at the site.
Sudden & unforeseen damage – Cover can be extended to self-damage, damage to surrounding property, third party and business interruption.
Deterioration of Stock – The policy could provide cover for loss of or damage by deterioration or putrefaction to goods stored in any cold storage space specified.