Whether you own, manage or live in an apartment complex of blocks of flats it is important to have the right insurance in place. We at Goldcrest Insurance have many years' experience tendering the market for our policyholders; ensuring their assets are sufficiently covered and are paying the most competitive Insurance premium possible.
You may wonder why a blocks of flats insurance policy is needed when the owners of the flats could insure their properties individually; however, envisage a situation where a fire or flood affected the entire building – How would you determine who's insurance policy would cover it? Dealing with a claim would be incredibly problematic and time consuming.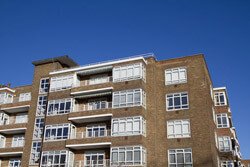 Our blocks of flats insurance policies will provide you with all the necessary protection you would expect to find at modest rates. Whether the flat is tenanted or is your permanent home our range of policies caters to owners such as residents associations, small management committees or even leaseholders including building cover, contents of common parts, property owners' liability and many other features. In most cases your flat would be insured as part of a block policy, however in some circumstances residents may not have organized a management committee, in which case each flat will be separately insured, to which we can also assist, however we would advise that you make the relevant steps to arranging a block policy.
Call Now To Speak To One
Of Our Friendly Staff
All our Quotes are tailor made to get you the best cover. Call now for a customised one minute quote.
Get a Quote
Speak to one of our team today and we'll find you the best quote on the market
Tailor Made Blocks of Flats Insurance
We know that run-of-the-mill blocks of flats insurance policy may not be right for everyone. That's why we can tailor your insurance protection to meet your specific needs:
Standard and optional covers:
Buildings (All Risks* and Subsidence)
Loss of Rental Income
Landlord's Fixtures and Fittings
Contents of the Common Parts
Property Owner's Liability
Legal Expenses (including legal fees for the removal of squatters)
Alternative accommodation
Replacement locks
Terrorism
*Such as fire, storm, flood, escape of water, theft or even malicious damage impact from aircraft or vehicles and escape of water from tanks or pipes.
So get in touch today to find out how we can help you.