Liability insurance for Demolition contractors falls under the high risk liability sector in insurance which the majority of insurers will not underwrite.
As a specialist broker we have a few providers who will pick up this style of works and make sure you are properly covered for the activities you undertake.
For Demolition insurance we cover demolition/soft strip/ball and chain and explosives. We cover up to all heights and depth and provide combined cover for asbestos removal whether it be non licenced or licenced or whether you need asbestos insurance cover for site surveys.
Call Now To Speak To One
Of Our Friendly Staff
All our Quotes are tailor made to get you the best cover. Call now for a customised one minute quote.
Get a Quote
Speak to one of our team today and we'll find you the best quote on the market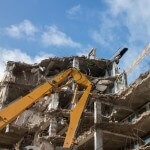 Along with the liability cover we can also include professional indemnity insurance for the demolition and asbestos works.
For demolition liability insurance we can include these works into a contractors all risk insurance or you may be a building firm which does just a small percentage of demolition works and need that included in your policy.
Not all insurers will assist in combining the two activities as they do not take on high risk trades, but we can definitely assist and cover all for you under one insurer.
Public liability for Demolition Contractors starts at 2 million and goes up to 10 million. As ever we can assist and if an excess layer is needed for above this amount.
If at any time you are unsure of what it is that you need or how much cover it might take then it is best to contact us and speak with one of our experienced team who can guide you through.  We deal with all kinds of insurance and have had many years doing so.