Manufacturing Insurance and Wholesale insurance comes with is own insurance risk due to the combination of employee's and machinery. At Goldcrest Insurance we have more than 40 years industry experience and use this to provide you with the most comprehensive manufacturers insurance needed for your company. It's not only our knowledge but is also the way we continuously source the entire market for leading rates.
Call Now To Speak To One
Of Our Friendly Staff
All our Quotes are tailor made to get you the best cover. Call now for a customised one minute quote.
Get a Quote
Speak to one of our team today and we'll find you the best quote on the market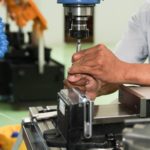 If you are manufacturing in a big scale factory or a smaller workshop level, there will be similar needs for a variety of forms of protection and these can include;
Computer & Machinery Breakdown – as a manufacturer, a large part of your daily work is going to be based around the use of computers and machinery. If there are any fault to these components or accidental damage then you need to make sure you are covered for repairs or replacements. With a commercial combined insurance policy you will be fully covered.
Employers Liability Insurance and Public Liability insurance is an element that comes inside this package, if your staff are working with machinery, then there is going to be a high risk of an accident occurring. This cover is essential and with it in place you can carry on trading knowing that you are not putting your company at risk by under-insuring.
Business Interruption with this cover in place you are protected if you are unable to trade for a period of time due to an incident which you are covered for. Again this is standard practice for a commercial combined insurance.
Contact our offices for a tailor made Wholesalers Insurance or a tailor made Manufacturers Insurance and you shall be not only be given a good premium but will be covered in all areas.