If you operate a static roadside trailer then catering insurance is a must, making sure you are fully covered in this wonderfully food indulgent country by working with Goldcrest Insurance.
We are fully versed in all types of insurances and have access to a wide range of products, ensuring that you get the right cover for you, this includes Static Roadside Trailers because at Goldcrest we make sure your company is fully protected in all the right areas.
It's not necessarily difficult to source insurance, a simple search online will no doubt bring up a whole host of restyle, but it's important you're getting a suitable product for your outlay as it should be seen as a product that is covering your business and perhaps more importantly your income source. It's not the same as choosing a like for like product off of the shelf in the supermarket and this is why speaking to an expert about your individual needs is so important.
Call Now To Speak To One
Of Our Friendly Staff
All our Quotes are tailor made to get you the best cover. Call now for a customised one minute quote.
Get a Quote
Speak to one of our team today and we'll find you the best quote on the market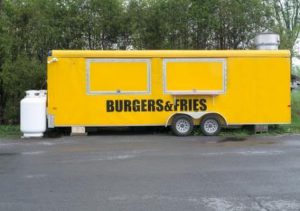 Our Static Roadside Trailers insurance includes standard cover such as loss or damage to the trailer/unit itself, however it can also include cover to the trailer's fixtures and fixings within its territorial limits so that your catering machinery and stock is protected. There are a whole host of other insurances that you might want to consider depending on your own business needs, they include:
Loss or Damage to Stock & Non Fixed Contents.
Business Interruption: on most policies Business interruption is automatically provided, which will cover loss of income/increased cost of working as a result of an insured peril over a 12 month period.
Frozen Food: Covering damage to frozen food in a deep freeze or cold storage due to a change in temperature following breakdown of the refrigeration, or accidental failure of gas or electricity supply or the action of accidental escape of the refrigeration fumes.
Public & Employers Liability – Standard offering on both being £5,000,000 for Public Liability and £10,000,000 for Employers liability.
Catering Insurance Liability is provided in all of our catering insurance products. Whether it is stand-alone coverage you require or perhaps a package deal we have the cover for you. No company is too big or too small. We provide insurance for the one man bands to larger catering companies. Our job is to make sure you have all the cover you need for the size of your business.
We offer up to:
£10 million in employers liability insurance
£5 million in public liability insurance cover with the option of increasing this to £10 million if required
Up to £5 million product liability insurance cover with the option of again increasing this to £10 million if required
Static Roadside Trailer Insurance in short:
Fixtures and Fittings
Stock
Liability cover
Business Interruption
Cash on Hand
Legal protection
We understand how time consuming and aggravating it can be searching for static trailer insurance can be. Our team of experienced members have a wealth of knowledge and will provide you with a competitive insurance quote for all your insurance needs. We are an independent company and so you know that you are getting the best quotes from across the marketplace. If you wish to get a quote or simply more information don't hesitate to call our team who are eagerly awaiting your call.