At Goldcrest we provide insurance policies for mobile caterers up and down this wonderfully food indulgent country.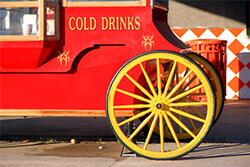 Insurance for catering trailers or catering vans / vehicles is not hard to source admittedly, but it's important you're getting a suitable product for your outlay as it should be seen as a product that is covering your business, indeed your actual income stream.
Cover available on our catering trailer policies include standard cover such as loss or damage to the trailer / unit itself, but also can include cover to the trailer's fixtures and fixings within its territorial limits – but aside from this expected coverage, you are also have the following available to you by insuring with us:
Loss or damage to stock & non fixed contents
Business interruption: on most policies business interruption is automatically provided, which will cover loss of income / increased cost of working as a result of an insured peril over a 12 month period.
Frozen food: Covering damage to frozen food in a deep freeze or cold storage due to a change in temperature following breakdown of the refrigeration, or accidental failure of gas or electricity supply or the action of accidental escape of the refrigeration fumes.
Public & employers liability – Standard offering on both being £5,000,000 for public liability and £10,000,000 for Employers liability.
There are also premium discounts available if your catering trailer has a data tag marking or a tracker system.
Call Now To Speak To One
Of Our Friendly Staff
All our Quotes are tailor made to get you the best cover. Call now for a customised one minute quote.
Get a Quote
Speak to one of our team today and we'll find you the best quote on the market
If you're looking for catering Van insurance, then discounts are also available to you if your vehicle also has data tag marking or a tracker system – in addition our policies offer the following:
Option for Comprehensive or Third Party Fire & Theft
Scheme available that offers FREE protected No Claims Bonus
Cover available for the Catering Van's fixtures, fittings & contents
Mirror NCB facility available – Meaning that if you have No Claims Bonus on your main vehicle already, we can use this as a discount towards a catering vehicle insurance policy
Open Driver policies available, such as Cover for "Any Driver over 25" or "Any Driver over 30"
Speak to our catering insurance team for a quotation for your mobile catering business if you're interested in the above, or because your current policy isn't offering the above.