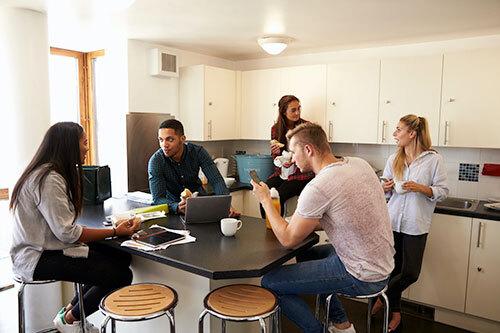 Are you looking for a sound property investment opportunity? If so, then you should consider investing in the student accommodation sector. This type of property investment is growing in popularity, and there is a great demand for it from students and landlords alike.
In this blog post, we will discuss the benefits of investing in student HMO accommodation and provide you with some tips on how to get started.
What is HMO Student Accommodation?
HMO (House in Multiple Occupation) student accommodation is a type of student property that is specifically designed for students who are attending college or university. It is typically rented out by the semester or academic year..
HMOs are usually located near campus, and they provide students with a place to live that is close to their classes and other campus facilities.
Many HMOs are run by the college or university itself, but there are also many privately owned HMOs.
In order to be eligible for HMO student accommodation, students usually need to be enrolled in at least two years of study. Some HMOs also have additional requirements, such as being over the age of 18.
HMOs typically have a variety of different room types, ranging from private rooms to shared dormitory style rooms, though the latter are less popular or prevalent. Tenants usually share common areas such as kitchens and living rooms, and each tenant usually has their own private bedroom.
HMOs are a popular choice for students who want to live in a communal setting, as they provide an opportunity to meet new people and socialise. Additionally, HMOs often have a variety of amenities such as laundry facilities and communal study areas.
Because student accommodation is typically rented by the semester, it is sometimes more affordable than other types of student housing. For these reasons, HMO student accommodation is a popular choice for many students.
Benefits of Investing in HMO Student Housing
The main benefits of investing in student property include high demand and flexibility.
High demand
One of the main benefits is that there is a high demand for this type of property from students.
The student accommodation market is currently experiencing high demand, which is good news for investors in student property. One of the reasons for this is the ever-increasing cost of university tuition fees. As a result, more and more students are looking for ways to reduce their living costs by sharing accommodation.
This has resulted in a surge in demand for student property, particularly HMOs. This increased demand has led to higher rental prices and occupancy rates, which in turn has generated higher returns for investors in HMO student properties.
In addition, the high demand for student accommodation has also helped to increase the value of these properties. This is also unlikely to change anytime soon. So, if you're thinking of investing in student property, now is a great time to do so.
Flexibility
Additionally, HMOs offer a great deal of flexibility when it comes to the number of tenants that can occupy the property. This makes them an ideal investment for those who are looking to generate a steady income from their property portfolio.
Landlords can choose to rent out a room to a single tenant, or they can opt for a higher occupancy rate by renting out multiple rooms to several tenants. This flexibility makes student HMOs an attractive option for landlords who want to maximise their rental income.
In addition, student HMOs are often easier to set up and run than other types of property. As a result, student HMOs offer a great deal of advantages for both landlords and tenants.
Disadvantages of HMO Student Property for Landlords
There can also be some disadvantages to investing in student housing for property investors.
High turnover
Landlords who let out properties to students often find themselves with a high turnover of tenants, as students tend to move away at the end of each academic year. This can be a hassle for landlords, as they need to find new tenants to take over the property each year.
Less likely to take good care of the property
In addition, students are less likely to improve the condition of the property in any way, when compared with long term tenants, as they are only there for the short term. They may also be less careful about taking care of the property.
As the landlord maintenance and upkeep is your responsibility, however the deposit that students will pay in order to secure their rental will help to cover the cost of any damage they may cause.
What to Consider When Investing in Student Property
If you are thinking of investing in student accommodation, then there are a few things that you need to take into consideration.
Finding students
Unlike ordinary tenants, students are unlikely to rent out a property for more than a year. You need to consider how you will go about finding enough prospective tenants to fill your HMO each year. You will need to find reliable students who are willing to sign a contract for an agreed period of time and you will probably need to do this every year.
Licensing
You will need to obtain a licence from your local authority in order to rent out your student property if it is considered a large HMO (five or more occupants).
It is also important to be aware of your Local Authority's requirements when it comes to letting out HMOs to students, as it does change from area to area. Speak to your local council if you are not sure as this is an area that has become more regulated in recent years.
Suitability for student living
You will need to make sure that the property is suitable for student living. This means ensuring that it has the necessary amenities and is located close to universities and other educational institutions or with easy transport links.
HMO Insurance
A house of multiple occupancy (HMO) is often considered to be a higher risk by insurance companies, which can make it difficult to find a policy that offers good value for money.
When you let an HMO to students, you take on extra responsibilities as a landlord. Not only do you need to make sure that the property is safe and fit for habitation, but you also need to comply with extra regulations designed to protect tenants. As a result, it's important to have a specialist insurance policy in place.
HMO insurance is specifically designed for properties with HMO tenants, and it can help to protect landlords against a wide range of risks, including fire, theft, vandalism, and even liability claims.
A student HMO policy can also provide extra protection against things like vandalism and damage caused by wild parties. In addition, most student HMO policies will include public liability cover, which is essential if you want to avoid being held liable for any accidents or injuries that occur on your property.
By taking out a student HMO policy, you can ensure that you're properly protected against any potential risks.
One of the main advantages of an HMO policy is that it allows the policyholder to insure their home against multiple tenants. This means that if one tenant damages the property, the policyholder will still be protected against any other potential claims.
As a result, an HMO policy can offer a great deal of peace of mind for those who rent out their properties. From damage to the property itself to liability for injuries sustained by tenants, HMO insurance can provide vital protection in the event of an accident or incident.
A good quality HMO insurance policy can save landlords a lot of money in the long run.
If you follow these tips, then you will be well on your way to reaping the rewards of student property investment. With the right property and the right tenants, you can achieve a healthy return on your property investment and enjoy a steady stream of rental income.
How Goldcrest Can Help
At Goldcrest Insurance, we understand that finding a good value insurance solution is often difficult. This is where we can help, to offer you a tailor made HMO landlord insurance quote to suit your needs.
We are independent and so have access to a wide range of policies across the market. In fact, we are well known throughout the industry as providing excellent HMO Insurance to landlords. We have a wide range of experience when it comes to HMOs, and so we are confident that we can find the perfect policy for you.
As a house of multiple occupation (HMO) landlord, you have different obligations than standard landlords. Your tenants are more likely to be in a vulnerable position, and you will be responsible for a higher level of care and maintenance.
In addition, your property is likely to be larger and more complex, with more opportunities for things to go wrong. As a result, you need to make sure that you have the right insurance policy in place.
A specialist HMO policy will provide cover for all of your unique risks, ensuring that you are protected in the event of any problems.
This is where Goldcrest comes in. We tender the market and approach specialist underwriters who tailor their quotations to meet your specific needs and regulations.
Goldcrest is one of the UK's leading providers of HMO insurance policies. We work closely with our clients to ensure that they have the right level of cover for their needs.
Our no obligation quotation process is quick and easy, and we're always on hand to provide expert advice and guidance.
Whether you're a landlord with a portfolio of properties or a first-time buyer, we can help you find the right policy for your requirements. So why not get in touch and see how we can help you?
Contact us today for a free consultation, and let us help you find the best HMO landlord insurance solution for your needs.