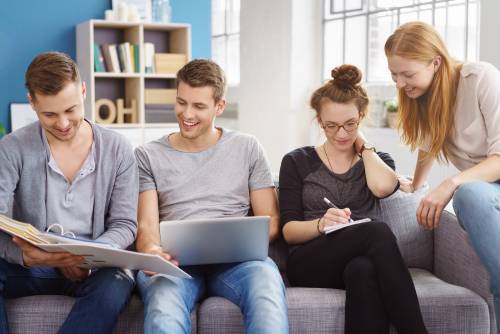 Properties that are let out to multiple people can bring in a greater yield and so many landlords and property investors and developers have actively sought out properties that can be let out in this way.
The difference between an HMO property and a Multi-Let Property is that a HMO requires a license and comes with a specific set of rules.It does vary from area to area and so please check with your local planning department to find out what the requirements are for you.
As a rough guide, Multi-Lets (or small HMO's) are properties rented to at least 3 people from different households where they share facilities within the house, such as kitchen, communal lounge and hallway and sometimes a bathroom. This type of property does not usually need a license, but again, do check with your local council.
A House in Multiple Occupation where there are more than 5 people from more than 1 household (also known as a large HMO), share common facilities and at least 1 tenant pays rent, do require a HMO license in England and Wales.
What Areas Typically Work for Multiple Tenants?
These types of set up are common in areas with Universities and Colleges nearby where students need affordable accommodation and don't mind sharing with other. The same can be said for hospitals, airports and where there is one large employer in the area.
You will often see a company providing this type of accommodation for its staff that may not live there on a permanent basis.
You also find multi-let or HMO properties in inner city areas where rents are more expensive and prohibitive for people to take on a whole flat or house on their own.
Should Landlords be Investing in HMO or Multi-Let?
Many property investors and landlords in this market make far superior returns on their property when compared with a single-let. You can expect to see returns of 7-9% on a single let and 13-16% on an HMO/Multi-Let property.
So why doesn't everyone do it?
Whilst the returns are much greater, the landlord has increased responsibility. For example, they would be expected to supply furniture, look after communal areas, pay for services such as Wi-Fi and perhaps a weekly cleaner.
You are also responsible for adhering to the local authority rules with regards to fire and safety regulations which are much more stringent for this type of property.
There is also the additional hassle factor in dealing with multiple tenants, finding new tenants and clearing up once someone has moved out. Replacing broken furniture and fittings as required and general maintenance jobs.
If you are prepared to make property your job then you may want to look after these elements yourself. But if you have other commitments then you will need a good managing agent to look after these elements for you. They of course will take a commission from any rental income you receive.
So, it's definitely worth considering all of the pro's and con's before deciding whether the HMO or Multi-Let marketing is right for you. It is definitely a worthwhile investment, so don't let this put you off, but like everything in life, it requires some thought and work on your part to ensure you gain the returns you desire.
Multi-Let and HMO Insurance
Along with a special type of renting comes a special type of insurance. A standard house insurance policy won't be sufficient to cover you where you have multiple tenants. That's why working with an Insurance Broker that has the experience and knowledge in this market is crucial.
At Goldcrest, we offer specialist insurance products aimed at the HMO and Multi-Let market and because we are Independent, we can scour the insurance market to find the best options for you in your individual circumstances.
We can even combine into a portfolio insurance product which many of our landlords prefer, it reduces the overall insurance costs and keep everything in one place so that you don't have to manage multiple insurance policies with differing expiry dates throughout the year.
If you want more information about our HMO Insurance and Multi-Let Insurance offering then get in touch today and we will be happy to help!