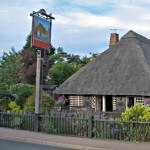 The sun is peering from its slumber, and maneuvering through the clouds to bring us this natural delight of warmth and sunshine.
It happens every year but living in England, you can be forgiven for forgetting what the English sunshine actually feels like.
As soon as the clock strikes 5 on Friday and the first ray of sunshine hits your cheeks; there's an immediate hanging thought in your mind……… PUB GARDEN!!
You wait all year round to stick your holiday shorts on in the country you reside in so you want to make the most of it down "your local".
But wait a second, Goldcrest have an amazing offer for you to make your experience more enjoyable – how would you like to receive a free drink from the pub of your choice? How about two, three?
Well here's our offer for you:
At Goldcrest we have extremely competitive rates for Pubs or for the more punctual of you, Public Houses – so competitive so that we can almost guarantee savings on any existing prices Landlord's or Landlady's may currently have.
Here's where you, the punter, come in: Get friendly with your local pub's landlord or landlady, and enquire as to where they currently insure their establishment, then ask how would they like to save money on their insurance without reducing any of their coverage… Slightly brash; agreed, but so taken away by your indulgence that they will humour you – your first part of this fabulous giveaway is now completed, all you need to do now is pass on Goldcrest Insurance's details and advise them to give us a call.
Once our team have chatted with your pub's landlord or landlady, and made them a nice saving on their insurance, they will have nothing but gratitude for you; so when you next walk in through those doors, you'll be greeted with a glass of your favour beverages followed by those euphoric words "it's on the house."
Notice to Pub Landlords & Landladies
To avoid giving away free drinks get to us first before your punters do!
We insure all pub types, any aged pubs, pubs with play areas, pubs with gardens, pubs with dance areas, pubs with live entertainment – we insure them all.
Get in touch with us on 020 8440 7400.