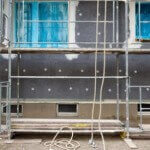 In the wake of the decimation that was storm Desmond the need for scaffolding insurance has become ever more prevalent with claims being reported up and down the country. For example in North Staffordshire a 40metre run of scaffolding came crashing down on top of several parked cars with stupendous force. Whilst the scaffolding was quickly dismantled and the area made safe due to the local firefighters who were called to the scene, it does demonstrate the importance of public liability insurance for scaffolders.  In particular Public liability insurance which would cover the damage caused to the vehicles, it also proves the significance of ensuring that your plant is properly insured, as this would cover the cost of the damage to the scaffolding itself.
Scaffolding Firms fined for not having the right insurances
However it's not just yourself that one has to worry about with scaffolding public liability, it's also your employees. Each year more and more scaffolding firms are being fined for ignoring requests to prove that they hold employers liability insurance for scaffolders.
Failure to purchase the minimum level of cover required under the Employers' Liability (Compulsory Insurance) Act 1969, which is currently £5,000,000, will eventually lead to investigation and prosecution by the Health and Safety Executive (HSE), which could lead to a hefty fine. Abacus Scaffolding North West Ltd find this out the hard way and in 2014 were fined £1000 and ordered to pay £2,035 in costs after being found guilty of breach of the Employers Liability (Compulsory Insurance) Act 1969.
At Goldcrest Insurance we automatically provide a minimum of £10million employer's liability insurance to any policy that includes one or more employees for Scaffolders Insurance. In addition to this we are able to provide unlimited cover for your works ensuring that you are never under insured. So for all you insurance needs for Scaffolders insurance, please give one of our specialists a call.