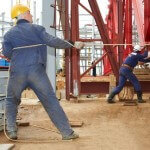 High Risk Public liability insurance is designed to cover your business in the event of third party claims being made against you for negligence that has caused persons to suffer injury or illness as a result. Public liability insurance can also provide cover in the event of damage to a third party's property. If you were ever put into a situation which made your company liable to be sued, having the right insurance can give you the cover you need.
What does Public Liability Insurance Cover?
If you work within a high risk trade such as scaffolding or roofing, public liability insurance will cover for any damage caused by the insured to a customer's (third party) property. For example if a scaffolder was working on a domestic property or a block of flats but failed to fit the bearings properly which lead a scaffolding pole collapsing, damaging the property for which he had been hired, as well as the property next to or below then this is when your liability insurance would come into effect.
A second example of what your self-employed public liability insurance would cover you for is if you were a roofer working high up and dropped a tile which caused damage to a third party's property then you would obviously be liable for the cost of repair or replacement.
Public liability insurance also provides cover for any injury which a third party receives if it is your fault, for instance if as a scaffolder and left a nail sticking out and a third party then injured themselves on it then you would usually make a claim on your public liability insurance.
The standard levels of cover for scaffolders' and roofers' public liability insurance are £1,000,000, £2,000,000 and £5,000,000 limit of indemnity. However it is becoming ever more common for scaffolders to require a limit of £10million, with height restrictions of above 20m. Many brokers will struggle to find appropriate cover at affordable rates, yet at Goldcrest due to our ability to provide each client with a bespoke policy, we have no limitations on the limit of indemnity or any height restrictions.
Additionally we will automatically include £10 million employer's liability insurance should you need to insure anyone but yourself or your partner.
Here at Goldcrest we understand how time consuming and aggravating it can be searching around for scaffolding public liability insurance or roofers public liability insurance, especially when you have little spare time as it is. This is why are happy to confirm, as market leaders in high risk liability insurance we are able to provide instant quotations from several insurers at a time meaning we do the searching for you so you don't have to, not only saving you money but time.