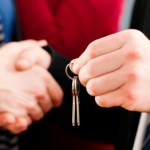 With the property market on the rise, now is a great time to jump on the "ladder" or in some cases acquire a new ladder. Becoming a landlord for some people isn't all plain sailing, once you're past the conveyancing stage, the mortgage stage, in order to exchange/complete you're sent on the mission to insure your newly acquired let property.  Very little guidance is given when acquiring the right insurance for your fresh asset and for what is now a polluted market, the prospect of searching through countless insurers for the right cover and the right premium can leave any landlord with a pending headache.
This is where the value of a broker comes to play – rather than search 20+ insurers yourself, why not leave it to one person with market knowledge to instantaneously give you a quote over the phone from their dedicated panel?  Well this is the service that is available to Landlords at Goldcrest.  When acquiring your let property insurance, we appreciate the deadlines you may have, so rather than being passed from pillar to post, any commercial or let property customer is given a dedicated account handler that will be their first and only point of contact for their quotation, unlike most mainstream providers you may be likely to try.
At Goldcrest we love those tricky non-standard let properties that you're finding impossible to insure whether it be tenant type (homeless, rehabilitation tenants etc.) or the property type (subsidence history, Grade listed etc.) – so whether standard let or non-standard let, contact us for your let property requirements today.
Acceptable Lets:
Professional
HMOs
Student
Retired
Housing Association & Local Authority/Council
DSS / DSS Referrals
Unoccupied / Unoccupied pending Sale & non-structural Renovation
Structural Renovation
Asylum Seekers
UK Holiday Homes
Part Owner Occupied, Part Let properties
Single Flats/Maisonettes which form part of a larger building
Purpose Built Flats
Private Dwellings converted into flats
Bedsits
Acceptable Commercial Trades include:
Offices
Shops – including those selling alcohol and tobacco
Cafes, Restaurant's and Takeaways including those using deep fat fryer
Bakers
Warehouses
Guest Houses
Public Houses & Wine Bars
Sports Clubs
Social Clubs
Commercial Premises with a residential dwelling above provided both are let