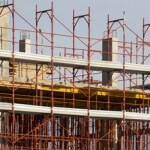 igh risk public liability insurance is what we specialise in. One specific trade in the high risk sector we find our rates are extremely competitive is insurance for scaffolders.
Commercial Scaffolding or Residential Scaffolding makes no difference and we can tailor make policies so there are no endorsements on such things as height restrictions. Commercial Scaffolders need to be able to work at extreme heights and we can provide this cover with the panel of insurers we work alongside.
Scaffolders are often required to have higher sums insured than the usual trades. The standard maximum limit for public liability usually stands at £5,000,000, but we have been asked to get public liability insurance for scaffolders covering up to 20 million.
Scaffolding Is high risk for the obvious reasons. There is so much at stake, not only with damaging a third party property , but also with the danger of a bit of scaffolding falling from height and hitting someone, or the scaffolding collapsing. It doesn't happen often in fact it is extremely rare .. but it does happen so it needs to be covered.
Public Liability for scaffolders is not the only cover that is required for the company.  If you have staff you need to insure you employees. The employers liability section picks this up and covers up to 10 million. Again think of the risk your employees are at working at such heights. Again if one of them were to fall or scaffold was to fall upon them , the scaffold company would need all the relevant Health and safety in place and insurances to protect them.
Remember when advising insurers about your turnover and wage roll, always be upfront. If you do not declare the correct figures on what the quote is based you are in high danger of the policy being withdrawn at point of claim.
Public and employer's liability insurance for scaffolders is essential and we not only believe we have a great policy for it, but we also believe our prices are the best out there.