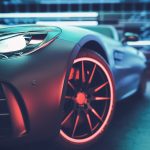 The reasons for getting a performance car can vary, whether it's because you enjoy the feeling of power behind the wheel, the admiration of others, or whether you're a bit of a collector in this regard. Whatever your reasons though, insuring performance cars can often be expensive.
What cars are considered performance cars?
The most common types of performance cars are sports cars, but there are others that fall into this category too. Some vehicles imported from outside of the EU, for instance from Japan, come with a particularly high specification that means they are considered to be performance cars for insurance purposes. Some cars that have been modified to considerably improve the engine power will also be considered to fall in this category, as will certain kit cars for the same reason.
Why is it usually expensive to insure performance cars?
Insurers calculate premiums based on what the chances are that they will have to pay out for a claim. Statistically high performance cars have a greater risk of being involved in an accident, which is mostly due to the fact that they have more power, higher speeds and better acceleration than ordinary cars and so tend to be driven faster.
Performance cars are also especially desirable to young drivers, and we all know that they are more likely to be involved in accidents than older, more experienced drivers.
When a performance car is involved in an accident it also tends to cost more to repair it, due to higher priced replacement parts and the specialist skills need to install them, not to mention that these parts are often harder to come by in the first place.
Thieves will also be more likely to steal an expensive looking car than something less impressive looking, as the bigger payout makes the risk more worthwhile to them. There is also a greater chance that someone will vandalise a flashier car, whether that's down to sour grapes or just the added adrenaline that comes with damaging something so high end.
How to get the best deal
Despite these drawbacks it is obviously still necessary to get good insurance for your vehicle, perhaps even more so with a performance car as you have more to lose if it is stolen or damaged. Here are two ways you can get your premiums as low as possible.
Security – by parking your car in a garage rather than on the roadside, or even in a driveway, will help to reduce the risk of theft or vandalism and this should be reflected in lower premiums. Installing an immobiliser or similar to further reduce the risk will also help.
Mileage – if you can reduce the annual mileage on your car by a meaningful amount you could also lower your premiums. It follows that the less time your car spends on the road the less chance there is of it being involved in an accident.
Finding an insurer who is an expert in insuring these types of cars will also ensure that you not only get the best deal possible but also that your cover is adequate. Goldcrest Insurance have provided insurance for high net worth cars for over forty years so contact us today to discuss insuring your performance car.