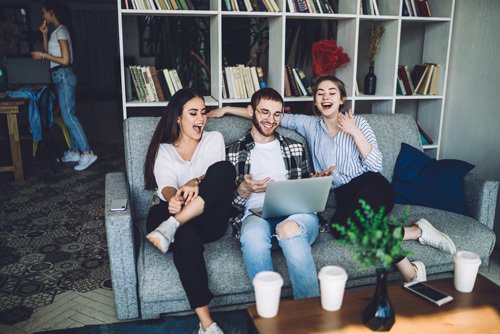 If you have a property you can rent out you would probably want to gain a good return on investment. HMO (House in Multiple Occupation) properties is one thing you may which to consider if your property is located right by the city centre or near a university campus or teaching hospital.
When renting out each room of an HMO, your overall rental income will increase. But it's not quite as easy as simply, letting out those rooms. You may need a license to operate and you will also need to maintain communal areas. However, it can still be a good option for landlords.
What is HMO?
HMO means House in Multiple Occupation and is a type of letting through which you can rent out each room in your property to individuals who are not related to each other or don't constitute a household (unlike a family or a couple).
Sometimes, this renting option is known as "house share" and can be much more profitable than renting the whole house to a family.
This is especially true if your HMO property is near the city centre or other desirable location, where you won't struggle to find enough tenants each year to fill the house. Renting to university students, in this case, can guarantee your property to be in demand and benefit from a regular income of potential tenants.
You will be required to furnish the property and maintain the communcal areas. Many HMO landlords will provide weekly cleaners for these areas and will cover utility bills and things like WiFi to make their property an attractive prospect for new tenants.
How to Get an HMO License
For your property to be considered an HMO, you will need to apply and obtain an HMO license. To obtain such a permit, you will need to request it from your local council office and, once they have granted it to you, it will last five years. Usually, the council office will send out auditors who are in charge of assessing the suitability of your property.
Indeed, the house must be spacious enough to accommodate five or more tenants, and each room must be 70sqft (6.5 meters). The kitchen, bathrooms and other facilities, since they are all shared among some or all tenants, will need to be spacious, safe, and suitable for everyday use.
Such a license can cost you between £500 and £1,200, but it can be considered an investment since you will be benefiting from higher incomes from it.
What HMO Insurance do I need?
If your HMO property is located near a university campus, it is common to rent to students – something that can be extremely profitable. However, landlords will be required to have a specific HMO insurance plan to protect the property rented to students.
Find out more about HMO insurance.
Health and Safety Regulations
Before you can put your property on the market as an HMO, you will need to pass an audit from the council office. During this assessment, the auditor will check that the house is suitable for welcoming five or more tenants and that all health and safety regulations have been met.
As a result of the audit, you might be required to implement specific safety measures in your property, including smoke alarms, gas safety certificates, and electrical appliances tests certificates.