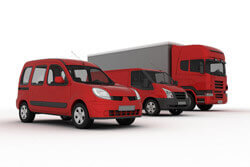 The Mini fleet insurance polices cover any business or families with 2-5 vehicles. We are able to tailor this type of policy based on your requirements. Goldcrest insurance can provide you with cover for either commercial, private vehicles or even a mixture of both so all the vehicles will be insured under one roof.
The Cover on the mini fleet insurance policy is flexible depending on what you require; one of the key advantages is that combining all of your vehicles on to one policy often brings with it a reduction in your overall premiums.
To find out more about Mini Fleet Insurance click here
Call Now To Speak To One
Of Our Friendly Staff
All our Quotes are tailor made to get you the best cover. Call now for a customised one minute quote.
Get a Quote
Speak to one of our team today and we'll find you the best quote on the market
Mini fleets for business
Small growing businesses that have 2 -5 vehicles should definitely think about a fleet insurance as all the vehicles will be covered onto 1 policy, which means easier administration. Goldcrest Insurance can cater for all sorts of businesses whether you are a builder, electrician, plumber, estate agent, IT Company or just about any other business with a number of vehicles. Tradesman/tradeswomen may require goods in transit which aim to protect their tools if stolen, this is crucial because if a builder loses their tools then they are unable to carry out work.
Mini fleets for Families
Are you a family that owns 2-5 vehicles?
The mini fleet can be designed specifically for your household for instance you can have a set amount of named drivers per vehicle. This will benefit you because it is cheaper to name the drivers under specific vehicles then have an 'open' policy. If you are a family with a 'young driver', we can tailor the policy so that they are only able to drive 1 vehicle under the policy, again this will save you money.
Goldcrest Insurance use a wide range of insurers which specialise in mini fleet insurance, we will explore the market and find you a tailored competitive quote suited for your business which we guarantee will save you money.
Why not call Goldcrest today for a free quote on 020 8440 7400