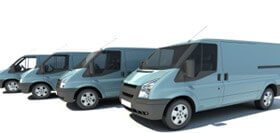 At Goldcrest Insurance we have been dealing with fleet insurance since the early 80's. We have an amazing panel of A-rated insurers who we use to obtain the most competitive rates and best cover through. We use RSA, Allianz, Aviva to name a few who we have been using for all these years.
We have a lot of fleet managers from businesses approach us, asking if we can look at their insurance policy and see if we can help out with premiums, or in the case of bad claims history, help out with advice to get their drivers to become better risks.
Fleet insurance is all about fleet management. If it is gotten right then companies potentially save hundreds and thousands. We have fleets from 5 to 300 vehicle fleets and can safely say that after a few years of our guidance they all pay a good price per vehicle in comparison to what they could be paying elsewhere.
We do a lot of fleet insurance for construction companies, fleet insurance for building firms and fleet insurance for manufacturers. We do not restrict the fleet to just vans or just cars. They can be mixed up so you can end up with all vehicles on one policy. We provide haulage fleet insurance for large vehicles and can even include on these vehicles free CCTV cameras to go inside to make sure drivers are driving well at all time and to stamp out any false accusations from third parties at the point of claim.
Call Now To Speak To One
Of Our Friendly Staff
All our Quotes are tailor made to get you the best cover. Call now for a customised one minute quote.
Get a Quote
Speak to one of our team today and we'll find you the best quote on the market
We also have a scheme called mini fleet insurance which caters from 2-5 vehicles and lets you have the facility like a fleet of any driver over 25 years or 21 years old to drive. Mini fleet insurance is a great tool for businesses to have, but again like fleet it all boils down to a good claims history. Good claims history equals good premium. Treat your fleet well and it will treat you well in returning by saving you lots of money!!
Fleet insurance for a company with bad claims history can be achieved, but fleet insurance for a company with good claims history is a lot more achievable. At Goldcrest yes we can quote for clients with bad claims history but it does narrow your market.
Many of our policies are open driver policies, this means that any driver can drive. But you will usually find a few restrictions as with larger companies. Directors can have cars such as Aston Martins, Porsche's and Ferrari's etc. where drivers will be restricted to certain vehicles and the high net worth cars restricted to any driver over 30 years old, unless there is a good case put forward.
We insure motor fleet policies all over Great Britain and it is extremely rare that we can't get a good rate. Our renewal rate for retaining our fleet customers is amazing and at every renewal we do our job and properly market the risk to ensure the best rate. All fleet policies are dealt with by our fleet team and you can always speak to your favoured specialist if required.