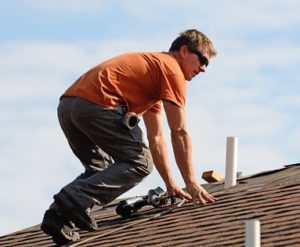 Public liability for roofing contractors is a tough market. The insurers deem it as high risk due to the business activities which in turn increases the premium charge to any other tradesman i.e. a painter decorator.
Whilst a painter decorated can be inside painting walls with a paint brush, roofers can be on top of houses and blocks of flats, or commercial premises using heat devices to do there works. The risk is high Rooferif these works are not attended to properly, like in some cases they were they are not and the whole property burns down, sometimes along with neighbouring properties, and this has sadly happened many times.
Insurance for roofers usually come with a few endorsements tucked inside the policy, like heat works endorsements, where insurers write in that if the roofer has carried out any hot works he must stay on site with a fire extinguisher in hand until all smouldering smoke has gone. This protects the client, the roofer and the insurer who is providing the premium for the roofers insurance.
Call Now To Speak To One
Of Our Friendly Staff
All our Quotes are tailor made to get you the best cover. Call now for a customised one minute quote.
Get a Quote
Speak to one of our team today and we'll find you the best quote on the market
The other large factor is height and working on roofs. The higher roofers go the more risk there is for an employee to fall and injure themselves. There was a recent claim reported where a roofer fell through a roof and died. This is extreme, but does and can happen with these high risk trades.
Public liability for roofers can be purchased at 2 million, 5 million or 10 million. We can facilitate up to any amount that your require on request.We can also provide contractors all risk insurance for roofers and fleet insurance for their work or personal vans for any company that has 3 or more vehicles.
The best way to find out how easy it is to get Roofing Contractors Insurance with Goldcrest is to give us a call or to fill in the online free quote form. You may surprise yourself by how easy we make it!